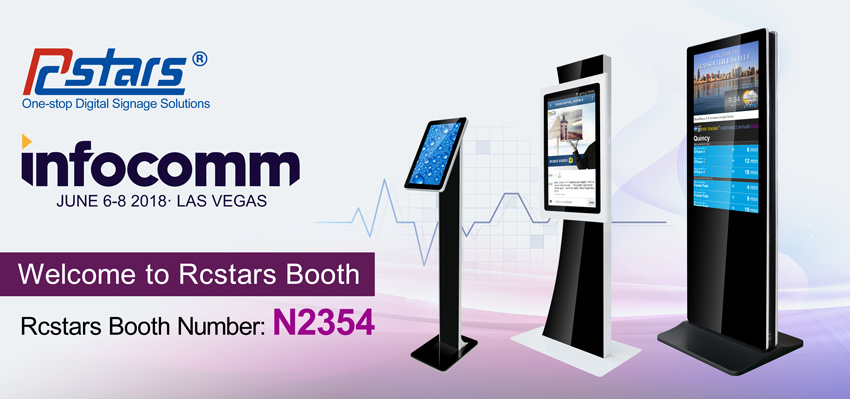 The 2018 lnfoComm show was finished on 8th June in Las Vegas. lnfoComm 2018 is the largest professional audiovisual trade show in the United States, with thousands of products for audio, unified communications and collaboration, display, video, control, digital signage, home automation, security, VR, and live events. Rcstars on behalf of the manufacturer for LCD Digital Signage we bring many new designed display to attend the show, and had a great succeed.
During the show, Rcstars showed 13 kinds of different kinds of LCD Digital signage, all the displays are popular and attracted many customers attention. And the most popular displays are RCS-550LBTPC-PCAP-C, RCS-151JITAZ-PCAP, RCS-101JTAZ-PCAP, RCS-430LBAZ-OD, RCS-430LBAZ-D, RCS-32LNTAZ-PCAP, RCS-240CM-D. There have many customers who visit our booth everyday during the show, and even some of them thought that we are the best after check the displays, as they are satisfied with the function, design, inner craft, software etc. We are glad to find that. Customers feedback and highly recognition are the best gift for us. Rcstars will insist on producing more high quality displays and provide better service to our customers. We believe, there is not best but better!
Another good news is that we received some nice order during the show also after the show. We all thanks a lot for all the customers' great support and high trust all the time. Rcstars will insist to provide more high quality lcd displays, suitable solutions and better service for you. We believe that we can help you win more orders in the future and tomorrow will be better.
Finally, we all welcome you to visit Rcstars' booth during the ISE show on 2019 in Amsterdam